-» Deutsche Version
---
Introduction
---
Measuring
medical outcomes
What is the
QL-Recorder?
Concept
Technology
Examples
Screenshots
Printouts
Configurations
Simple
Infrared link, printer
Infrared link, printer
WLAN, server, printer
Infrared link, server, printer
Infrared link, laptop, printer
WLAN, laptop, IR-link, printer
Complex
WLAN, fileserver, SQL-DB, WWW; printer; fax
WLAN, SQL-DB, e-Mail; fax
WLAN, server, SQL-DB, printer •
Infrared link, server, SQL-DB, printer
AnyQuery
Laptop, printer
Laptop, fileserver
Projects, results
Literature
About the QL-Recorder
About "Quality of life"
Live Demo
Awards
What's new?
Example 9 out of 12: Complex configuration with pen-computer, wireless LAN, fileserver, SQL-database and printer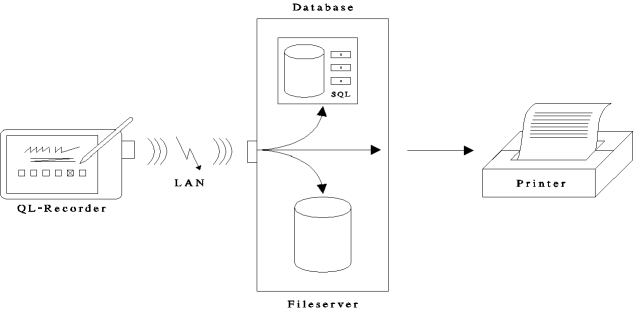 Components and connections
This configuration consists of a pen-computer with integrated touch-screen, which is connected to a network via wireless LAN.
Within the network, there are a fileserver, a SQL-database and a print-server.
Printer and server are connected via parallel port or via infrared-interface (IrDA).
Functionality: Interview and result printing
The patient fills in questionnaires at the pen-computer.
Recorded data are transmitted to the server via wireless LAN and are stored there. No important data (e.g. data of patients or results) remain on the pen-computer. The wireless LAN allows complete freedom of movement of the pen-computer.
Printouts are generated immediately and transmitted to the print-server. The results of the current interview and an overview of the patient's course appear on the printer.
Recorded data are copied from the fileserver into the database automatically. The contents of the database can be delivered as raw data or can be processed further automatically.
Functionality: Searching and using recorded data
The doctor can search and print data of individual interviews using AnyQuery.
Data of multiple interviews can be exported as table to be processed further using other programs.
Data stored on the fileserver or in the database are available on every workstation within the network.